By Judith Boyko
Imagine this: You have a terminal condition. You are deteriorating and slip into a coma. Another scenario: You are in a major accident and need life-saving measures to survive. In either case, decisions about your medical care must be made quickly.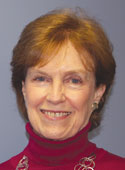 Have you told your loved ones about your wishes for end-of-life care? Do they know whether you wish to be kept alive through artificial means if you need life-sustaining support? Do they know if you are an organ donor?
Can you imagine your loved ones not having this information, thereby being forced to make choices based on what they think you might want?
Most people do not want to contemplate the end of their lives; it's uncomfortable. However, advance directives ensure that one's wishes about end-of-life care and treatment are respected, and they spare loved ones from having to make difficult decisions on their own. Advance directives also ensure that one's religious, spiritual and personal values are met with respect and dignity at end-of-life.
National Healthcare Decisions Day, which takes place on April 16, is an observance during which all Americans are urged to make their end-of-life care wishes known by drafting advance directives that include a living will and appointing a healthcare agent.
Although not legally binding in Massachusetts (one of the few states where this occurs), a living will indicates what type of medical treatment is preferred — and not wanted — at the end of life. It includes preference for and fears about specific treatments; whether or not one wants to receive artificial nutrition or hydration; ventilation; dialysis; and even funeral preferences (burial versus cremation). It may also include a DNR — an order to medical personnel indicating a preference to not be resuscitated if one's heart stops or if one stops breathing.
A healthcare proxy is a form that designates an individual ("agent") to make decisions on behalf of someone unable to do so in the event of a personal medical emergency. The agent should be a trusted family member or friend who knows the patient well and can serve as the patient's advocate when the patient is unable to speak for him or herself.
Since a living will is not legally binding in the Commonwealth, it is recommended that an individual lists treatment preferences in the healthcare proxy and limit the decisions that an appointed agent may make on his/her behalf.
Each state has a specific, legally-binding advance directive form that can be downloaded at www.caringinfo.org. Each state also has specific laws regarding advance directives. Then, consult with an attorney to ensure the form is complete and accurate. Bring a copy to your doctor's office for inclusion in your medical files. And discuss your wishes in person with anyone involved in your healthcare.
This National Healthcare Decisions Day, give yourself and your loved ones peace of mind by having a conversation about your end-of-life wishes and preparing an advance directive. Ensure that at the end of your life, you will be treated with the dignity you deserve and spare your loved ones additional trauma during a difficult time. For more information, visit nhdd.org.