"I remember the pride I felt when I received my Social Security card at the age of 14," said Sarah, an AARP member from Natick. "I have been happy over the years to pay into this program which supported my grandparents and parents, but is now threatened by those who do not understand that we are all in this together. What happened to our country that we no longer care about each other?"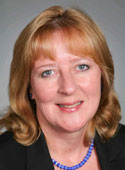 Over the last several months, we have heard from thousands of AARP members from across the commonwealth — and throughout the country — who have expressed their frustration, anger and even fear over the prospect of Congress cutting Social Security and Medicare benefits in order to reduce the nation's debt. More than 6.5 million signed petitions urging members of Congress not to make these cuts.
Yes, we sent a strong message to the congressional Super Committee that was working to solve the federal budget deficit. And, while they failed to act, this will not be the end of the debate.
Today, more than one million Massachusetts residents count on these lifeline programs.
In the Bay State alone, middle- and lower-income seniors rely on Social Security for 74.2 percent of their individual income. Without these Social Security benefits, nearly 300,000 of the commonwealth's older residents would face poverty. Remember, the average annual Social Security benefit is only $13,900 — while the typical Massachusetts senior on Medicare pays $6,800 a year on their out-of-pocket health care costs. And, nearly 100 percent of our older residents are enrolled in Medicare.
"Medicare is very important to my husband and me," explained Joan from Yarmouthport. "It is something we worked very hard for, for many years, and now we depend on it for our health care coverage."
We have heard from our members, and Americans 50-plus, that we as a nation need to strengthen and improve Social Security and Medicare — as opposed to treating them as a piggy bank to pay the nation's bills. Our members are extremely frustrated with the inability of Congress to address these concerns.
John of Billerica sums up this sentiment, "As young adults, we worked our entire young lives trying to keep on top of things and pay our taxes, so as we reach retirement age, we will have the help we need not to have to depend on our children. Let us not show them that there is no hope for the future."
AARP agrees. Instead, we need a national discussion to develop the tools and strategy for strengthening health care and retirement security — and for restoring prosperity to the middle class.
Many believe that Congress should be able to reduce the deficit without jeopardizing the health care and retirement security system that Americans depend on, that they have worked for and have paid into all their lives. Lawmakers could begin by cutting wasteful spending — including in our health care system — attacking fraud and eliminating tax loopholes. Their failure to date has made our members, and people 50-plus, even more cynical about the ability of government to come to grips with these issues.
They are anxious to hear solutions that address the problems faced by real people. They want to hear ideas that would lead to more jobs, bring efficiency, economy and fairness to health care and provide greater financial security.
"We have all worked hard and contributed to Social Security and Medicare for many years and we don't know how we would survive without these benefits," said Sharon of Worcester. "I think they are great plans, but need work and protection to keep them alive for future generations. We all get old and need some security in our lives."
AARP believes it is time to take the conversation about Social Security and Medicare from behind closed doors and in to the public arena. It is time to give Americans a voice.
We are about to kick off an important national conversation on finding ways to strengthen health care and retirement security, and restore prosperity to the middle class. We want to hear your ideas. And, we want to hear what you think about the options already being discussed, especially what they would mean to you and your family. We all need to understand the impact these options would have both today and tomorrow.
AARP wants to ensure that current and future generations receive the benefits they have earned over a lifetime. With your ideas, input and involvement, together, we can achieve this goal.