By Deborah E. Banda
As the temperature heats up this summer, so does the fight to protect Medicare and Social Security. By the beginning of August, we must stop the U.S. Congress from making harmful cuts to Medicare and Social Security as part of a deal to pay the nation's bills.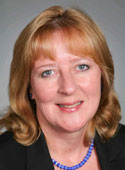 Let's not mince words: Right now, Medicare and Social Security are under attack. Congress is considering proposals that would make cuts to both programs, the impact of which could be disastrous for real people — including both future retirees and today's seniors.
Yes, contrary to some claims, these cuts could dramatically increase health care costs for those who are now age 55 and older — threatening their access to doctors, hospitals and nursing homes — and reduce the benefit checks they rely on to pay their bills.
Older Americans have worked their entire lives to earn their Medicare and Social Security benefits. Most believe that changing the rules in the middle of the game is not fair, and that when Congress changes the rules, they will pay more and get less.
About a million Massachusetts residents rely on Medicare. They pay an average of $5,500 annually, out of their own pockets, for medical expenses. And, that number is rising every year. Meanwhile, their Social Security benefits remain modest by any standard, at approximately $14,000 a year.
AARP asks all members of Congress to remember that they are not just negotiating budget numbers on a spreadsheet. They are dealing with the lives of real people — our families and loved ones, our friends and neighbors.
Absolutely, Congress needs to make some tough choices to address the country's large and growing debt. But, AARP believes instead of hurting today's seniors and future retirees, there are better ways to reduce the deficit. And, it's all about priorities.
For starters, Congress should cut wasteful government spending. And, it should close tax loopholes as well as special interest tax breaks for companies that make billions of dollars in profits, but pay little or no taxes — before considering harmful cuts to programs that are a lifeline to millions of older Americans.
For example, oil companies are earning record profits, yet they get special tax deductions, preferences and credits, totaling billions of dollars over the coming decade. Tobacco companies continue to get more than $200 million in subsidies. In total, all tax breaks and loopholes cost the federal government an estimated $1 trillion each year.
In addition, the nation must tackle ever-rising health care costs. And Medicare should not be singled out. We should improve the way health care is delivered throughout the entire system — focusing on prevention, better care coordination for people with chronic illnesses, and incentives that reward doctors and hospitals for providing high quality care as opposed to seeing more patients or running the most tests.
Further steps can be taken specifically to reduce Medicare costs, such as preventing expensive hospital readmissions and cracking down on overbilling by providers. Congress should also stand up to the drug companies; Medicare spends billions of dollars on high priced drugs because less expensive generic drugs are prevented from coming to market in a timely manner.
As for Social Security, it did not cause our nation's budget problems, and should not be weakened to fix them. Social Security faces no immediate crisis — except from Congress right now. Social Security can pay 100 percent of benefits for the next 25 years. After that, with modest, gradual changes, the program can stay strong for decades.
The vast majority of Massachusetts residents age 50 and older say Medicare and Social Security are very important to them, according to a recent AARP survey. They also have concerns about the programs meeting their needs.
The promise of Social Security has endured since 1935; the promise of Medicare, since 1965. They embody our deepest values as Americans. Our obligations to one another, between generations — parents and children, grandparents and grandchildren, those in retirement and those at work, the able-bodied and the disabled.
For more than 50 years, AARP has been fighting to ensure older Americans have affordable health care and financial security in retirement. We will continue to fight to stop Congress from making a deal to pay the nation's bills that includes harmful cuts to Medicare and Social Security. We will work with both political parties to help ensure that both programs remain strong for today's seniors and future retirees.
Are you in? Call your Member of Congress today at 888-722-8514; urge him or her to protect Medicare and Social Security. Or, visit aarp.org/protectseniors to send an email.