By Deborah E. Banda
Since national health care reform has been signed into law, have you figured out yet what you need to know? AARP is here to help. The new law will make many changes for the better — some may even surprise you. Did you know, for example, that Members of Congress will be required to buy their health plans through state-run insurance exchanges — like the Massachusetts Health Connector Authority — as part of the new law?
For one 61-year-old AARP member from Worcester, having the chance to get health insurance through the Health Connector was a relief. A small business owner, she had been among the ranks of the uninsured. The Health Connector provided her with a variety of options, and she selected one that met her needs — a higher deductible, lower premium plan.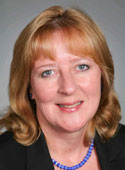 But, not everyone will buy health coverage through exchanges. If you get insurance through your employer, you can continue to do so. In fact, you will have new benefits and protections. Starting this September, insurance companies can no longer place lifetime limits on what they will pay for your care; annual limits will end in 2014. Further, they will have to spend the bulk of the money you pay for your coverage on medical care, as opposed to overhead.
Also: All new insurance plans will have to provide many preventative services and screenings for free.
If your employer offers a family plan, you can keep your children on your plan until they turn 26. And, no child under age 19 can be denied coverage because of preexisting medical conditions.
For those who rely on Medicare, the prescription drug doughnut hole will close completely by 2020. This year, if you enter the coverage gap, you will receive $250 toward your drug costs; in 2011, you will get a 50 percent discount on all brand name and biologic drugs, and a 7 percent discount on generic drugs; over 10 years, you'll continue to receive more discounts for generic drugs as well as brands until the gap is eliminated.
If you're in traditional Medicare, starting in 2011, you will be able to get an annual physical plus many preventative services at no cost. Medicare Advantage enrollees will need to check with your individual plan to find out if the services will be free.
And, speaking of Medicare Advantage, yes, Medicare will stop paying more for people currently enrolled in many of these private plans than for those in traditional Medicare. The overpayments will gradually be phased out and replaced with a system that rewards the plans that meet quality standards for care and service. Will these changes cause some plans to raise premiums, or drop extra benefits like routine vision care and health club memberships, or even leave Medicare? We will need to monitor this carefully — especially since so many Medicare beneficiaries have seen their premiums skyrocket over the last few years.
Bottom line, according to the AARP Bulletin, there are 10 things you need to know, today, about the new health care reform law. It will:
•Help 32 million more Americans get insurance.
•Make coverage denial for preexisting medical conditions a thing of the past.
•Guarantee basic benefits for everyone in Medicare, make preventative services free for most, and gradually close the "doughnut hole" in the Part D program.
•Set up a temporary program in July to help people with preexisting health conditions obtain coverage.
•Provide new benefits for most people who already have insurance.
•Leave medical decisions in the hands of you and your doctor.
•Require most people to have coverage by 2014 but offer subsidies for those with moderate or low income and make more people eligible for Medicaid.
•Create state-run insurance exchanges — like the Massachusetts Health Connector — offering a menu of private insurance plans for people who are uninsured, self-employed or between jobs.
•Offer immediate tax credits to help small businesses buy insurance for employees.
•Keep Medicare financially sound for nearly 10 more years and reduce the U.S. deficit by an estimated $142 billion.
Another great aspect of the new health care law is the creation of a long-term care insurance program that will allow you to make contributions while you are working in return for future cash benefits to help pay for home and community based services.
To learn more — or ask your own questions — please visit our web page that is devoted to providing information about the health care reform law: www.aarp.org/getthefacts. To receive a free informational brochure, How the New Health Care Law Benefits You (D19272), call AARP Massachusetts at 866-448-3621.
Deborah Banda is the state director of AARP Massachusetts, which serves more than 800,000 members age 50 and over in the Bay State. Connect with AARP MA online at www.aarp.org/ma, www.facebook.com/aarpma and www.twitter.com/aarpma.